New
Popular Esports Game in Esport Betting: PUBG
PUBG, Playerunknown Battlegrounds is an online multiplayer shooting battle royale game introduced in 2017. The game has then soon gained popularity from esports players, professional gamers and game lovers all over the world, beating other esports game. Within half a year, PUBG pc including its mobile game version has gained over 400 million players and then becomes one of the most-played and best-selling video games, with over fifty million copies sold worldwide by June 2018. PUBG Corporation has then run a few big tournaments to push it to become a popular esport betting.
Some of the well-known Top 5 esports team in PUBG are FaZe Clan, Team Liquid, Natus Vincere, Tempo Storm and Team SoloMid.
Tips for PUBG on PC and PUBG Mobile
Let's see some of the tips for PUBG.
1. Choose your comfortable game mode
For each round of pubg game, players get to choose to enter the pubg match as solo, or by a team, 2 or 4 people. A good part of playing in team is that players get a second chance of living. One does not die directly but there is a certain timing till you are really eliminate where your teammates still can save you before. Teamwork is important in playing a team and the game becomes more unpredictable with these interesting factors. Choose wisely if you are good to fight by yourself or do you prefer teammates to cover each other.
2. Choose the map that you are familiar
In pubg online game, there are few maps that players can choose to enter such as Erangel, Miramar, Sanhok, and Vikendi. Erangel and Miramar is a larger map as compared to Sanhok and Vikendi. With a larger map, the enemies are not as saturated as a smaller map would be. However, you can still go to cities that are crowded with people if you would like to have a real fight. In Erangle Map, the most popular location would be the "Sosnovka Military Base".

You can find over 30-40 people landing on this place for each match. If you are not a good shooter or tactics player, avoid this spot as you might not come out alive for the first round. The advantage of choosing Erangel map could be its game scenes that are open grassland. You can hide yourself easily but watch out, there might be others that are hiding beside you!
Miramar map in PUBG online comes with a desert theme. It is also the biggest map in PUBG where the majority of the space are being filled by land and with little cities. Desert theme with almost no trees makes it a heaven for all snipers. If you are a good sniper, try Miramar. The most popular spot for this map would be Pecado and Los Leones. The boxing center located at Pecado often landed quite a number of players.

However, if you are looking for something in between, try Power Grid or Water Treatment. With a lesser building in these places but with attractive and enough resources, these 2 spots somehow attract a number of real shooters.
If you are playing in Miramar map, to have a good sniper with a proper scope is a key to win the game.
3. Choose your gun, expert it
There are a list of guns in the pubg game. You will need to know about the strengths and weaknesses of each in order to expert it. Play it a few more rounds, practice is the key.
Assault Rifles (AR) in PUBG
For example, an AKM has the most damage per bullet in PUBG but a heavy recoil and slower rate of fire might makes you to reconsider using it. If you are able to handle its heavy recoil, AKM will be a good choice to kill your enemy before he does if both of you are shooting each other at short distance using AR.
Among all AR, SCAR-L would be a good choice above all as its recoil when firing is controllable and it is the only AR that players can comfortably use its automatic fire. With other equipment to combine, it appears to be most stable among all rifles.

Sniper Rifles (SR) in PUBG
AWM is the most powerful sniper in pubg online game that can KO an enemy even with level 3 helmet at just one hit. However, this sniper can only be found in care packages, which is drop randomly across the map.
Apart from Rifles that is only found in care packages, Kar-98k is the best sniper rifle you can found in Playerunkowns' Battleground. With its deadly accuracy and decent iron-sights, you can easily headshot KO any enemies wearing anything below Level 3 helmet with just 1 shot.
Other weapons like short guns or SMG are only considered at a close distance shooting and are not suitable in bringing to the end of the game, you will not survive.
How to Snipe in PUBG game?
To play snipe require a lot of skills. Basic knowledge in sniping is not good enough for you to compete with those expert players. Here are some tips for the sniper in Pubg game.
First of all, a scope would be necessary if you are holding a sniper. In pubg, the game was initially come out with 2x, 4x and 8x scope. You can find 15x scope only in a pubg airdrop package. The pubg on pc is then improvised, where 3x and 6x scope is available. Now, for a sniper, 6x, 8x and 15x scope would be ideal. Sniping with 4x scope can still be considered however the smaller the scope is, the lower the accuracy to snipe from a far distance.
There are some attachments can be added to the sniper which can make the sniper more stable by reducing its recoil, hide flashes and suppresser to reduce the sound of the shot. These can be a very crucial factor for a sniper to hide himself.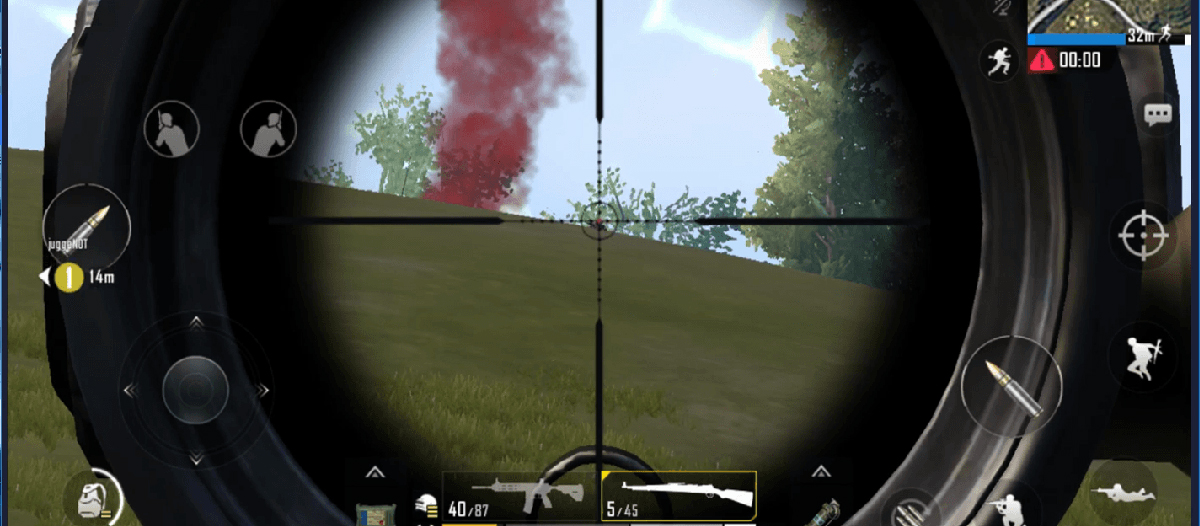 Adjusting your sniper for bullet drop before shooting is an important aiming technique.
If the enemy is at zeroing mark of 100m, you can shoot the enemy aiming with the middle dot on the scope.
The further the enemy you are aiming, the higher your shooting should be. Now, your aiming should not be middle dot of the scope (chevron) anymore. You have to move up your sniper, aiming towards the target using the notch below the middle dot, adjusting with distances.
Tips: The further the distance, the lower the notch to be used.